Montreux Jazz Festival 11 July 2014 ; h22.00
It was finally time for the SAMURAI GUITARIST from TOKYO to took over the stage at THE ROCK CAVE. Comyvz, music lovers, and festival staff was all waiting for him in a hyped atmosphere. It felt like everybody was curious to see this " MIYAVI".
Few minutes after 10PM, the signal was given, the lights was turned off, the curtains opened and for us familiar, for the rest absorbing guitar notes fulled the unreal silence which was the result of the high demand for the MIYAVI LIVE at MONTREUZ JAZZ FESTIVAL 2014.
MIYAVI entered full of his confidence playing his guitar powerfully, in black elegant suit
( from GUARD YOU MV
). Even if the guitar was already enough to not leave eyes from him, his look was making impossible for anyone to not pay attention of this one man on stage in front of more than 300 people.
Bobo followed MIYAVI and entered without stalling attention from MIYAVI, and without a pause "
WHAT'S MY NAME?
" started blowing out the crowd. After he has played this song for so many time, his level of playing it it's incredibly fascinating every time.
The music was so high that it was hard to hear our voices screaming his name but he was able to listen we knew his name!
The audience was still dizzy from just the first song when MIYAVI started short the lesson for the song coming next,
STRONG
. He wanted us to sing along with him, and so made the crowd sing as one the
refrain, once he were satisfied, he enchanted us by the intro of the strong song. We were up to his lessons, and he approved the audience.
"
Hello I'm MIYAVI from TOKYO" long applause welcomed him, he said how it was an honor for him to be there, at the 150
th
anniversary between Swiss and Japan.
"
It doesn't matter what genre it is, rock, punk, pop, jazz, we are one thro music tonight, so please enjoy yourself till the end, I'll now play for you few songs in Japanese"
With this intro he prepared himself for maybe the song which shows his skills better than other songs

CHILLIN CHILLIN MONEY BLUE$

, it wasn't jazz but MIYAVI blues and as he said we were one so the audience was just feeling the music as he said it " Feel the music"-
He moved a lot in the short stage, reaching the crowd from every side to perform closely for everyone, he was one with his guitar, impossible to follow his hands beating the strings, he wanted to amuse even more and took the T5 behind his head and played the guitar from his back as he use to do in this Lives. Amazed voices was clearly following his performance.
"
I need you to sing again with me" with his he started another song from "What's my Name ?" album "

A-HA

" . He showed also his vocal skills in this song, he has improved this too among his guitar tech in this years, he was totally gaining respect from all the people there which seemed to have so much fun already.
When the intro of

SECRET

took the venue, comyvz screamed knowin what was goin to happen, MIYAVI didn't let this welcome be wasted and allowed us to scream even more. It was a hot song being played in an elegant way, as if all was willing to scream for MIYAVI.
Even louder scream come when powerful intense heavy notes of

SELFISH LOVE

started. It was impossible to make the crowd be calm.
The atmosphere was cooled as MIYAVI changed the guitar into acoustic and did another short MC with taking fan made swiss flags!
For the first time in Europe he performed

SILENT ANGER

which originally is sang by Takeshi Hosomi from the album "Samurai Sessions vol 1" .
It's a difficult song to be sang so most of fans was allowing only MIYAVI to sing it, but some brave once did the refrain with MIYAVI, gaining his approve and making so the performance with him.
After an applause for the majestic show, the notes of

GUARD YOU

entered in the hearts of audience. It was easier than Silent Anger to sing this song so comyvz and the rest of music lovers sang along with MIYAVI creating a sweet moment. After the song ended MIYAVI said he wrote it 3 years ago after the earthquake and Tsunami which occurred in Japan, and Thanked Switzerland for all the help they gave to Japan.
Even if there are hard times and difficult moments we can move on, although this world is full of sorrow we are smiling through the pain, so

CRY LIKE THIS

– It felt like comyvz was waiting for this song, and did the refrain without MIYAVI askin to do it! It was like the message of the song was being captured by all the people there.
MIYAVI said " Thank You Im feeling your Love" and " I know you guys wants more, more Japanese sound" and started heating the guitar with

SURVIVE

and with just adding " You want more right" "

FUTUSTIC LOVE

" took the place " We are one" The venue was going insane, no one could stay calm, everyone jumping with MIYAVI and was having fun through music.
He thanked again the crowd and said "the last song"

HORIZON

, It was performed with the audience which seemed to have just started the show, with an endless energy to follow all MIYAVI orders, jumping and singing with all the power. MIYAVI had a super smile and was lookin to the crowd with loving eyes while leaving the stage.
Since his guitar and Bobo's drum was still there it wasn't shocking, so we started to call his name again, and as just we started singing for him We Love You, with a very short break he come back with his phone and wearing "Cry Like This" T-shirt.
He took photos of the audience, thanked again and get ready for the encore, then someone said " Are you ready to rock?" MIYAVI replied " hey that are my words, Are u ready 2 rock?"
With this he slapped the guitar even harder then ever, and made the famous battle with BOBO, it was GANRYU time, makin all THE ROCK CAVE go insane, and without a stop MIYAVI attacked with "

ARE U READY 2 ROCK?

" It seemed it wasn't planned so we were very happy for an extra!!!
Then it was time for one of comyvz most loved song ever "

WHAT A WONDERFUL WORLD

"
No one could take a breath and think what he/she was living as the final song started -

DAY 1

!!!!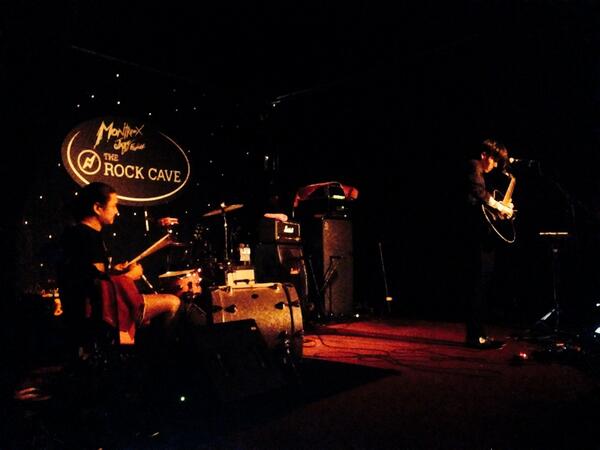 The atmosphere was really still very powerful, it was almost 2 hours since the live started we were all super tired but still with lot of energy to spend with and for MIYAVI, he could feel it and he was feeling the same, so said " one more extra song for you guys" Bobo seemed surprised but followed MIYAVI's guitar and knew at was an encore of WHAT'S MY NAME? - - - while calling his name louder than it was possible the incredible Live of MIYAVI AT MONTREUX ROCK CAVE ended.
MIYAVI Staff entered to took finale photos, of MIYAVI, BOBO and us and with a no stop applause and super happy smiles and waves MIYAVI leave the stage, with one more "Merci, Thank You, and I'll be back soon Switzerland" .
I was at other MIYAVI shows and I can say he improves every time more even if we think he can't really get even more in higher level, but he just keep doing this, and so once again i witnessed this happening. I was never at a festival Live of him so was very curious to see how he and us could have make it, and well it was a total success, he gained the respect and love from everyone there and I bet they won't miss him performing again in Europe!
SETLIST— MIYAVI MONTREUX FESTIVAL 11/07/2014

What's my name
Strong
MC
Chillin Chillin money Blues
A-ah
Secret
Selfish Love
MC
Silent Anger
Guard You
MC
Cry like this
Survive
Futuristic love
Horizon

ENCORE
Ganryu
Are u ready 2 rock? *
What a wonderful world
Day 1

ENCORE (2)
What's my name *

* addedd extra setlist
Thanks for reading, @comiyaviww (kanmisa)