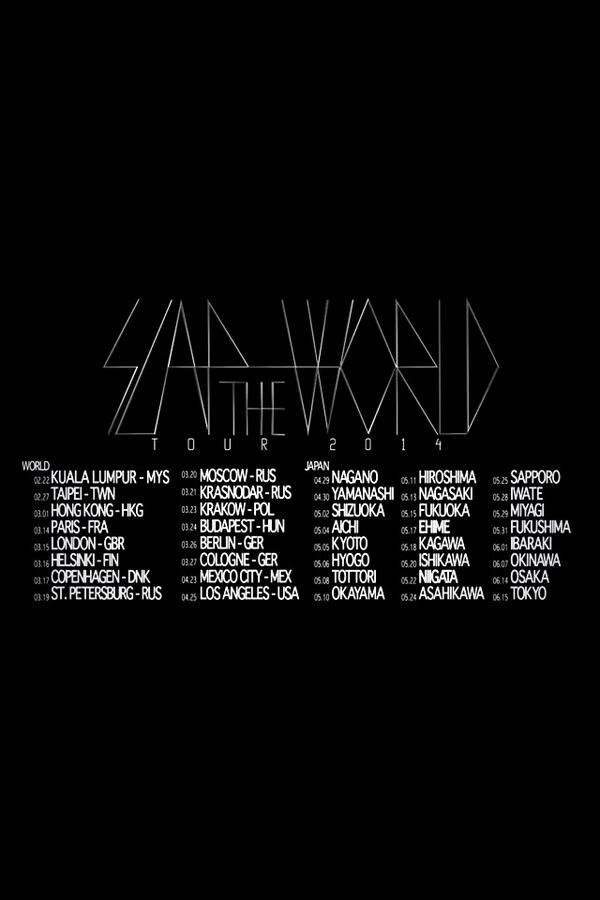 On 13/02/2014 MIYAVI STAFF has updated the
SLAP THE BEAT WORLD TOUR 2014
with the finale two lives which are for American circuit:
★
Mexico City
【Date】
2014/4/23(Wed)
OPEN 6:00pm / START 8:00pm
【Venue】
Mexico City, MEXICO Circo Volador
Calz de la Viga 146 Mexico City15800 Mexico
http://www.circovolador.org/
https://www.facebook.com/pages/Circo-Volador-Centro-de-Arte-y-Cultura/152467308120634?id=152467308120634&sk=page_map
【Ticket】
From 2014/2/14(Fri)
Ticket details to be announced.
★
Los Angeles
【Date】
2014/4/25(Fri)
【Venue】
Los Angeles, USA Troubadour
9081 Santa Monica Blvd. West Hollywood, CA 90069
http://www.troubadour.com
【Ticket】
From 2014/2/14(Fri)
http://www.ticketfly.com/purchase/event/496051
So SLAP THE WORLD TOUR 2014 will be on the following countries
Asia tour
2014/2/22: Kuala Lumpur, MALAYSIA Neverland
2014/2/27: Taipei, TAIWAN, THE WALL TAIPEI
2014/3/1: Hong Kong, Music Zone E-Max KITEC
Europe tour
2014/3/14: Paris, FRANCE LA Cigale
2014/3/15: London, UK Shepherds Bush Empire
2014/3/16: Helsinki, FINLAND Circus
2014/3/17: Copenhagen, DENMARK DR Concert House
2014/3/19: St. Petersburg, RUSSIA Aurora Club
2014/3/20: Moscow, RUSSIA Volta Club
2014/3/21: Krasnodar, RUSSIA Arena Hall
2014/3/23: Krakow, POLAND Studio Club
2014/3/24: Budapest, HUNGARY Barba Negra Music Club
2014/3/26: Berlin, GERMANY Columbia Club
2014/3/27: Cologne, GERMANY Live Music Hall
American Tour
2014/04/23: Mexico City-Circo Volador
2014/04/25: Los Angeles, California-Troubadour
MIYAVI wrote this on twitter after the finale calender of the WORLD TOUR :
"Abt my upcoming tour, I really wanted to make it happen in more countries but it took forever and this is our best we've got this time.
I feel so bad but I promise to sincerely dedicate all of myself on the stage to you all with my performance for the next time in the future."
* So please dont feel sad about MIYAVI not reaching you this time, keep supportin him and waiting for his Live in front of you! He will surely come to find u & rock out with u! *
Together with this news it was raveled a
WORLD TOUR TRAILER VIDEO
with the song" JUSTICE " from MIYAVI ALBUM - CHECK IT OUT !
Be super Excited while doing finale countdown!!!
SEE YOU ALL SOON!!!!
#GOMYV